Paralympian Receives Adaptable Prosthetic Arm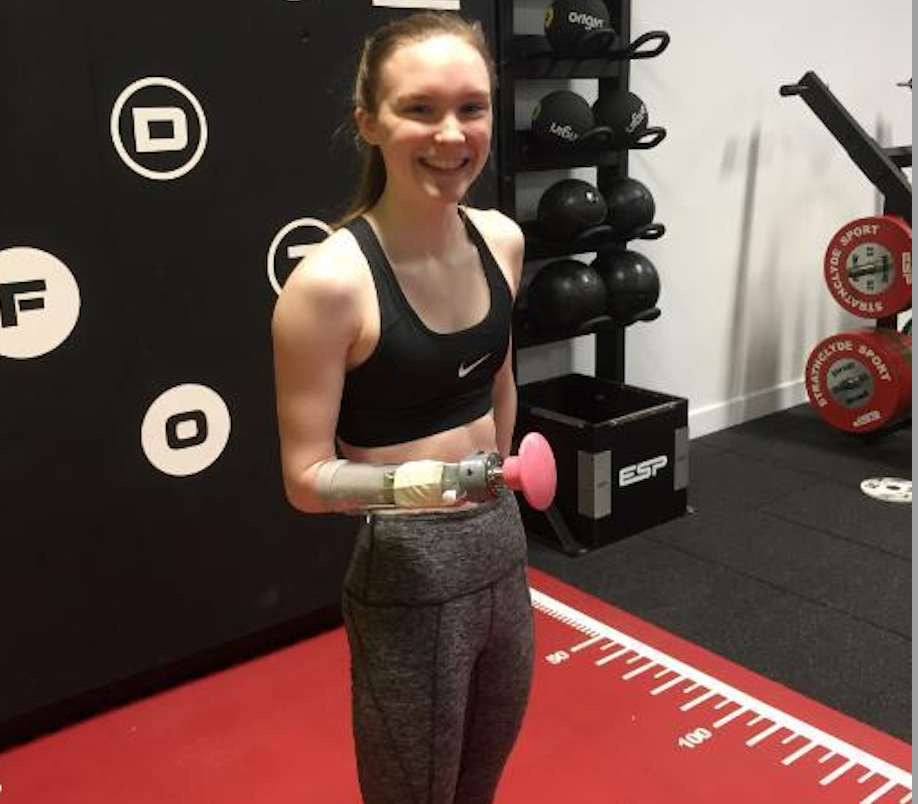 As Scots Paralympic swimmer Toni Shaw takes to the pool in Tokyo next week, as well as her family and friends, one woman in particular will be watching with pride.
The dedicated teenager has been able to fulfil a long held dream of competing for ParalympicsGB thanks in part to the ingenuity of Sarah Day, who created a state-of-the-art prosthetic arm to assist Toni's strict training regime.
The certified prosthetist and orthotist from the University of Strathclyde came to Toni's aid when she was contacted by one of her coaches in 2018. Born without her right hand, Toni, who was just 14 when she represented Scotland at the Gold Coast Commonwealth Games and reached four finals, had long dreamt of being selected for Tokyo. But because her right hand never fully formed, her training was hampered by the fact she wasn't able to carry out much of the upper body strength conditioning work vital for a swimmer.
Training needs
Toni didn't use a prosthetic arm in everyday life but her Physical Preparation coach, David Boyd from sport scotland, researched available prosthetics. Realizing there was nothing suitable for Toni's specific training needs, he contacted Sarah at the National Centre for Prosthetics and Orthotics at Strathclyde.
Sarah created a one-off state-of-the-art prosthetic arm for Toni made of carbon fibre, which can be changed with several different attachments, allowing the Paralympian to complete exercises including pull ups, bench press, handstands, and other exercises involving barbells and dumbbells.

The Teaching Fellow in Prosthetics and Orthotics said: "David explained he was trying to build up Toni's upper limb strength but because of the imbalance, it was hard to exercise the side without the hand and her muscle bulk was becoming uneven in the training.
"We got Toni down to the University and worked out what she needed and what the options were. The aim was to make a custom device which would give even limb length and enable Toni to safely hold bars and lift weights.
"For me the challenge was also making an arm that was strong enough to allow Toni to hang off a bar in the gym."
Trial prosthesis
After taking measurements and a plaster cast of Toni's arm, a trial prosthesis was made, with components sourced from the USA and Sarah added: "We fitted the prosthesis and tested it out in the university gym before I made a final prosthesis which Toni has been using since. She's now able to bear weight through her shorter limb and lift weights more effectively. "
The prosthetic proved even more important during lockdown when Toni, who set new Scottish records in the 100m freestyle S9 and 50m freestyle S9 and a new British record for the 100m butterfly S9 at the Scottish National Open Championships in 2019, wasn't able to access a pool for periods of time and focused on land-based training.
David Boyd said: "The prosthesis has made a huge difference to what Toni can do in terms of her range of training. She's made objective, measurable improvements in her upper body strength which can be connected to the use of the prosthesis and looks really strong in the pool. Without it, there would be a limit on what she could do on land, so it has enhanced her capacity for training. The application in the gym is great, but more important is the transfer to the performance in the water in the lead up to Tokyo.
"Toni is only 18 so has a long career ahead of her but without putting pressure on, I think she'll go out and enjoy herself and be on the podium in Tokyo."
Toni, who was also named Young Sportswoman of the Year for 2020 at the Scottish Women in Sport Awards, used the prosthesis right up to heading to Japan where she is taking part in a pre-Games training camp.
Her mum Shona Shaw said: "We really can't thank Sarah enough. Her hard work definitely went a long way to helping Toni secure her GB place."
Sarah added:
When I heard Toni had been selected for Tokyo I was just absolutely delighted for her as I knew this has always been what she's been working towards. I'm so pleased this technology has been able to let her increase her strength and get her where she needs to be and for her dreams to come true. "I think this is just the beginning for her and I know I will feel incredibly proud when I watch her in action at the Paralympics."
Toni's events include the 400m Freestyle, where she is hoping to achieve a Personal Best time and the Paralympian said earlier this year: "It's such a strong British team and it's an honour to be part of it. It means everything, it's so special."