Researchers explore the use of exoskeleton in physical therapy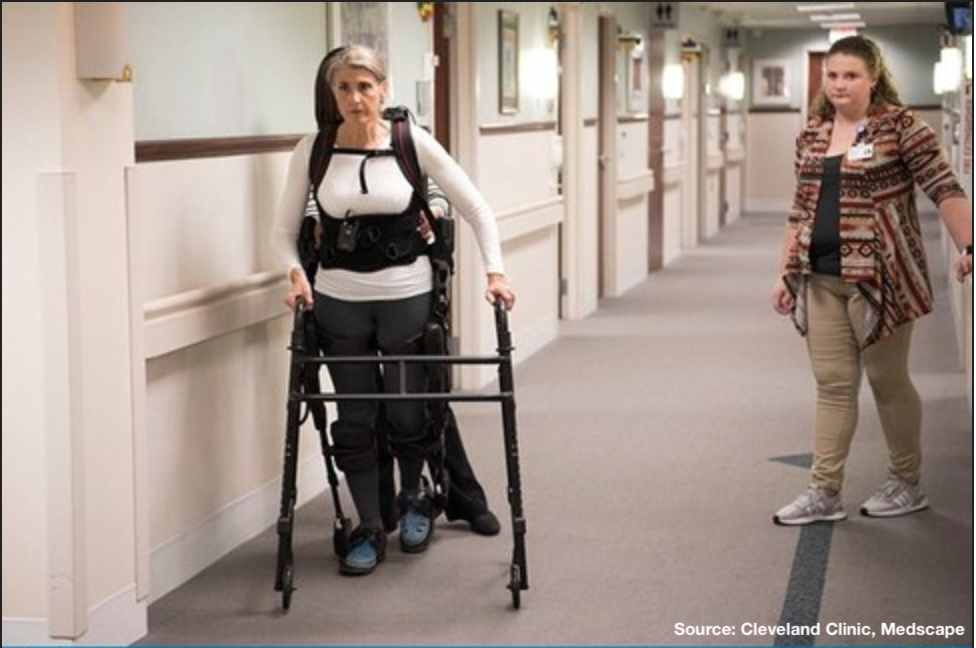 A novel pilot study is the first in what researchers hope will be a series of steps to demonstrate that an exoskeleton can safely and effectively enhance rehabilitation of patients with multiple sclerosis (MS).
Prior research demonstrated physical therapy training with an exoskeleton could improve outcomes for people after a stroke or among those living with spinal cord injuries.
"People with MS had heard about the technology and wanted to know if they could benefit from it — that is how I got interested in this in the first place," principal investigator Francois Bethoux, MD, told Medscape Medical News.
Bethoux just completed evaluation of the fifth and final patient enrolled in this proof-of-concept research, "Pilot Study of Power Exoskeleton Use for Gait Rehabilitation in Individuals With Multiple Sclerosis."
"In terms of getting some informal feedback, it was all very positive," said Bethoux, director of rehabilitation services at the Mellen Center for Multiple Sclerosis, Neurologic Institute at the Cleveland Clinic in Ohio. Full results are expected to be published later in 2020.
Each person participated in 24 physical therapy sessions while wearing the Ekso Bionics Gait Training (Ekso GT) exoskeleton. The rehabilitation protocol was three 1-hour sessions over 8 weeks.
Participants have relapsing or progressive MS and severe mobility limitations, defined as score between 5.5 and 7.5 on the Expanded Disability Status Scale.
Primary and Secondary Outcomes, So Far
Bethoux reports being particularly encouraged by the primary outcome, defined as the percentage of participants who did not complete the study.
"No one dropped out. They each attended all training sessions, which is highly unusual," he said. "Some of these patients are quite disabled, and it's an effort for them to come to us for these physical therapy sessions."
The fact that participants attended all sessions, including a follow-up evaluation at 14 weeks, "really shows a high level of motivation and a high level of satisfaction with the use of the device," he added.
A second primary outcome is to assess adverse events during or between training sessions. "It's not fully analyzed data," Bethoux said, "but we didn't see any safety concerns that arose during this proof-of-concept study."
"It looks like, in terms of safety and feasibility, it all looks good," he added.