Paralympian Faces New Challenges After Blood Clot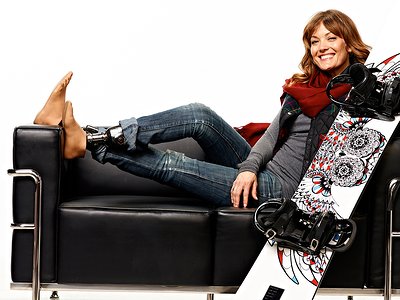 It's February 2019 and Paralympian Amy Purdy is on top of a mountain in Colorado. She spends four hours snowboarding on her two prosthetic legs, cruising, riding powder, just having fun.
The adrenaline rush she gets on her board is sweetened that day by the fact that Amy's reached a new peak—not just on the mountain, but in life. She's healthy, her motivational speaking career is on fire, and her New Year's resolution is to be in the best shape of her life for her 40th birthday in November.
But just one week later, Amy feels a cramp in her left calf while giving a speech in Las Vegas. Two days after that, she wakes up in excruciating pain. The diagnosis: a massive blood clot in her left leg spanning from her hip to beneath her knee. "It pretty much came out of nowhere," she says.
Soon after, the U.S. Paralympic snowboarder and Dancing with the Starsrunner-up learns there's nothing her doctors can do—and fears she may never be able to wear a prosthetic on her left leg again.
By the time I meet Amy at this shoot in October, she's been living without her left prosthetic for seven months. She arrives on set maneuvering deftly on a pair of crutches, traveling with an assistant who helps her navigate tricky scenarios—like, say, opening the bathroom door or carrying a cup of coffee.
Amy is no stranger to physical hurdles. When she was 19, she left her job as a massage therapist early one day with what she thought was the flu. Less than 24 hours later, she was in the hospital on life support. She was diagnosed with bacterial meningitis and had both of her legs amputated below the knee. She also lost both kidneys and received a transplant from her father that she calls her "greatest gift."
To say Amy bounced back almost sounds ridiculous, given the scope of her achievements in the 20 years since she lost her legs. Once she recovered from the amputations, she more or less strapped on her prosthetics and was "go-go-go" for the next two decades: winning three Paralympic medals, completing stints on DWTS and The Amazing Race, building a robust motivational speaking career, and cofounding the Adaptive Action Sports organization she runs with her husband of four years, Daniel Gale.
Which is why it's so hard for her to imagine a life without her prosthetics. "For the first time ever, I'm experiencing what it feels like to have something that's really debilitating," she says.
Today, I can glimpse the toll the past few months have taken. Her ever-present smile falters when she finds herself getting fatigued on set from standing on just one leg or using her arms to support her entire body weight on the swing. She's quick to request a chair be placed near her so she can take frequent breaks. And I can tell that the prospect of accidentally injuring herself further—or pushing her body too far—haunts her.
Given the past few months of her life, I don't blame her.
I sit down with Amy as she's getting her makeup done, and she takes me back to that pivotal moment when she received her diagnosis in February: Afterward, she immediately undergoes emergency surgery, and while doctors successfully remove the clot from her thigh, they can't extract it from her knee or lower leg.
Amy faces a dilemma: Further procedures will put her kidney at risk. But if she does nothing, she worries she may be in a wheelchair for the rest of her life.
"I really had to think, 'Do I want to continue to live healthy, with this kidney, and without a leg, or do I want to save my leg, and risk losing my kidney and going through another transplant?'" says Amy.
Determined to find a way to walk again, Amy gets on the phone. She calls the vascular surgeon who operated on victims of the Boston Marathon bombing. She rings up Dr. Oz. "I called every celebrity friend I have," she says.
Eventually, she finds a doctor in Denver who agrees to treat her while minimizing risk to her kidney. He opts for a procedure that other doctors dismissed because they feared it wouldn't be effective on an amputated leg.
The treatment involves using a catheter to drip a clot-busting solution into Amy's leg for 24 hours. "It was the most excruciating thing I've ever felt," Amy says. "I basically yelled and moaned for 24 hours straight. Even the strongest combination of painkillers didn't help."
But it works—the clot is gone. The next challenge: to get Amy's blood flowing through her leg again.
Amy spends the next three months recovering. Finally, in June, she feels ready to try on her left prosthetic for the first time. But almost immediately, Amy says, "my leg turned purple and lost circulation at the very bottom."
The culprit: Though the clot is gone, Amy's arteries are drastically shrunken due to the trauma, meaning blood flow to her leg is restricted. "It was bad news after bad news after bad news for about four months straight," Amy says. "The only escape I would have was just to go soak in the bathtub and cry."
The solution to this new hurdle involves a procedure that literally stretches out Amy's arteries. Painful, yes, but ultimately it dramatically improves blood flow and provides relief for some of the discomfort Amy has experienced since February.
What follows is a recovery regimen that makes me wonder why I can't seem to dedicate five minutes a day to my foam roller. For three hours a day, five days a week, over the course of six weeks, Amy sits inside a hyperbaric oxygen chamber in an attempt to improve circulation in her blood vessels.
She removes all traces of oil, lotion, makeup, and nail polish from her body before entering the submarine-like tank each day, because the high-pressure oxygen levels render everything inside of it highly flammable.
Her first treatment leaves one of her eardrums bruised due to the high pressure inside the chamber—a side effect she knew she was risking going into the procedure—but she finds a doctor to put in tubes and goes back for more. "It really became empowering for me, because it was something that I could do actively every single day to help my body heal and get through this," Amy says.